Our Annapurna Circuit Short Trek is a condensed 6-day experience, designed for those passionate about trekking but limited by time. Starting in Kathmandu, we transport you by bus to Besisahar, where we handle permit registrations. From Besisahar, the journey continues with a scenic jeep drive to Chame.
The heart of the trek begins in Chame and takes you to Pisang, winding through a picturesque forest trail. Along this path, trekkers can admire the Paungda Danda Rock. From Pisang, the trail leads to Manang, offering breathtaking views of Annapurna peaks such as Annapurna II, III, IV, and Gangapurna. The trek then progresses to Ledar and onto Thorong Phedi. A major highlight is the fifth day, where trekkers cross the Thorong La High Pass to reach Muktinath, a sacred site revered by both Hindus and Buddhists. After a restful night in Jomsom, the journey culminates with a flight to Pokhara.
This 6-day Annapurna circuit trek, requiring trekkers to hike 6-7 hours daily, is an alternative to our 17-day longer Annapurna circuit trek to the entire Annapurna region. It provides a unique blend of nature's beauty and cultural richness of the region
What to Expect on the Annapurna Circuit Short Trek?
This Annapurna region offers some of Nepal's most breathtaking Himalayan views. Expect to walk 5-6 hours daily, moving from lush forests to the high alpine terrains. The trek includes paths along valleys, ridges with panoramic mountain views, and passes adorned with prayer flags. With Dream Heaven Adventure handling all the details, you just need to enjoy this unforgettable journey.
Best Time to Trek the Annapurna Circuit
While trekking in Nepal can be influenced by the monsoon from June to August, the ideal times for the Annapurna Circuit are during the clear spring (February-May) and autumn (September-November) months. However, each season, whether it's the snowy winter or misty summer, offers its own unique charm. Regardless of when you decide to trek, Dream Heaven Adventure ensures a top-notch experience.
How Difficult is the Annapurna Circuit Trek?
This 6-day short trek is suitable for most people with a good health and fitness level. Even if you're new to trekking, you can embark on this adventure. However, be mindful of the high altitudes, especially as the trek crosses the Thorong La pass, which is above 5,000 meters. It's vital to stay hydrated and rest adequately. With our guides by your side, you're in safe hands as you explore the mesmerizing Annapurna.
Perks and Highlights of the Annapurna Circuit Trek with DHA
Benefit from free access to essential trekking gear, including duffle bags, trekking poles, and an oximeter to keep a check on your oxygen levels and pulse.
Cherish your Himalayan journey with a detailed trekking route map, and Dream Heaven Adventure t-shirt.
Experience the beauty of scenic Himalayan villages dotted throughout the Annapurna Mountains.
Ascend to an impressive 5,416 meters to cross the mountain pass of Thorong La.
Enjoy unparalleled panoramas of majestic peaks like Dhaulagiri, Manaslu, Machapuchare, and the entirety of the Annapurna massif.
Complete this iconic Annapurna Circuit Trek in a brisk six days.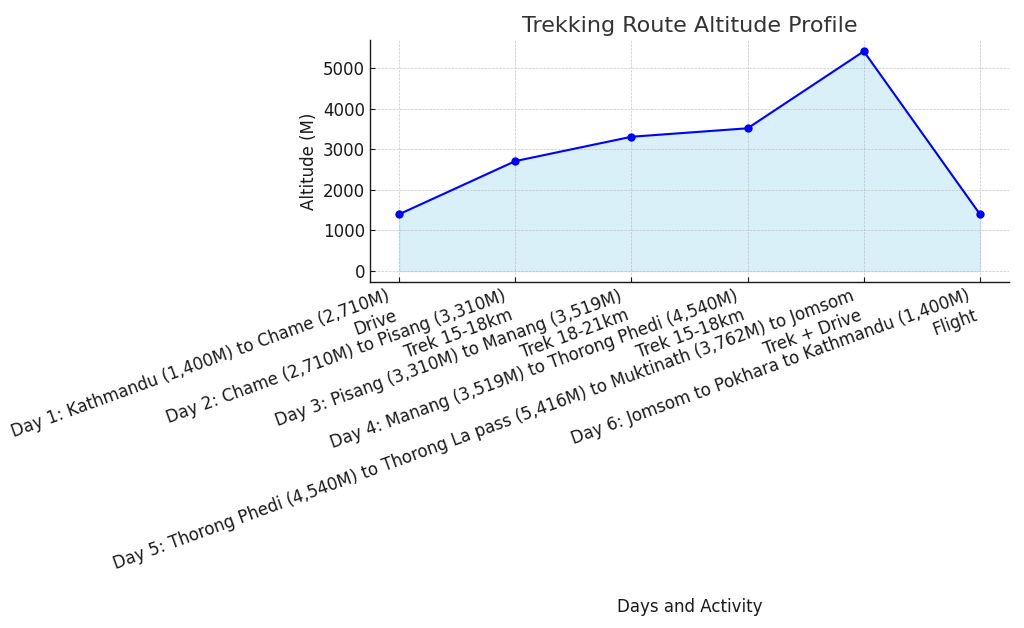 Short Annapurna Circuit Trek Itinerary
Day 1: Kathmandu to Chame (2,710M) - Drive via Besisahar (8-9 hours).
Day 2: Chame to Pisang (3,310M) - Trek (5-6 hours, approx. 15-18 km).
Day 3: Pisang to Manang (3,519M) - Trek (6-7 hours, approx. 18-21 km).
Day 4: Manang to Thorong Phedi (4,540M) or Thorang High Camp (4,880M) - Trek (5-6 hours, approx. 15-18 km).
Day 5: Thorong Phedi to Muktinath (3,762M) via Thorang La pass (5,416M) - Trek, then drive to Jomsom.
Day 6: Jomsom to Pokhara/Kathmandu - Flight (First Jomsom to PKR flight then PKR-KTM flight).
How to Book Your Annapurna Circuit Adventure
Explore Online Options:
Begin by exploring our online products to discover the natural and cultural beauty of Nepal.
Instant Booking:
Our trips are instantly bookable through our website. Simply navigate to the desired trip and click on "Book This Trip" for a seamless booking experience.
Request Additional Information:
If you need more details about a particular trek or tour, please write to us or call us at our provided phone number.
Online Booking Confirmation:
After submitting your online booking, we'll guide you through the final booking procedure. To confirm your trip, deposit of 20% of the total trip cost (per person) is required.
Questions?
We're here to help! If you have any questions or need further details about our trip booking process, don't hesitate to contact us.