The Pikey Peak Trek is quickly making a name for itself amongst trekking enthusiasts. Nestled in Nepal, this route has been trodden by renowned mountaineers, most notably Tenzing Norgay Sherpa and Sir Edmund Hillary. One of the significant appeals of this trek is its promise of a unique blend: not just the panoramic views of mountains, but also a deep dive into Sherpa culture.
Situated in the Ramechap district, the trek stands tall at an altitude of 4067m. Unlike other overcrowded treks in the Everest region, Pikey Peak offers a peaceful yet enriching experience.
As trekkers make their ascent, they are treated to a canvas of nature's best. Traditional Sherpa villages greet them with their warmth and authenticity. The trail is further adorned with vividly painted Buddhist monasteries and serene rhododendron forests, symbolizing a harmony between culture and nature.
But undoubtedly, the crown jewel of this trek is its unparalleled view of the Himalayan giants. From vantage points along the route, one can feast their eyes on majestic mountains like Mt. Everest, Kanchenjunga, Makalu, and several others. These moments, especially during sunrise and sunset, are sheer magic.
The trek's finale at Phaplu offers options: either take a flight or embark on a scenic drive back to Kathmandu. For those who prioritize experiences over destinations, the Pikey Peak Trek is a treasure trove. It beckons adventurers to relish its mix of natural beauty, cultural richness, and the awe-inspiring presence of the world's highest peaks.
Pikey Peak Trek Route
If time constraints bind you but you're in good physical shape, we can craft a condensed 4-5 day itinerary to suit your needs. However, for those seeking a leisurely and enriching experience, our standard 6-7 day plan is ideal. This extended duration allows trekkers to meander at a comfortable pace, reduces physical stress, and provides ample opportunities to relish the stunning vistas. By adding a few extra days to the Pikey Peak trek and using a meticulously crafted itinerary, you're ensured a trip that is both enjoyable and relaxed.
If the shorter 4-5 day itinerary aligns better with your preferences and schedule, please let us know, and we'll make the necessary adjustments to accommodate your request.
Outline Itinerary
Day 1: Arrival in Kathmandu: Transfer to hotel; meet with trek team.
Day 2: Drive to Dhap: 7-8 hour drive to reach Dhap (2800m).
Day 3: Dhap to Japre: 4-5 hour trek to Japre (2920m).
Day 4: Japre to Pikey Base Camp: Reach Pikey Base Camp (3640m) in 6-7 hours.
Day 5: Pikey Peak to Junbesi: Start with sunrise at Pikey Peak (4065m), descend to Junbesi (2990m).
Day 6: Junbesi to Phaplu:5-6 hour trek to Phaplu (2400m); visit Chiwong Monastery.
Day 7: Return to Kathmandu: Choose between a flight or a 9-10 hour drive back to Kathmandu (1400m).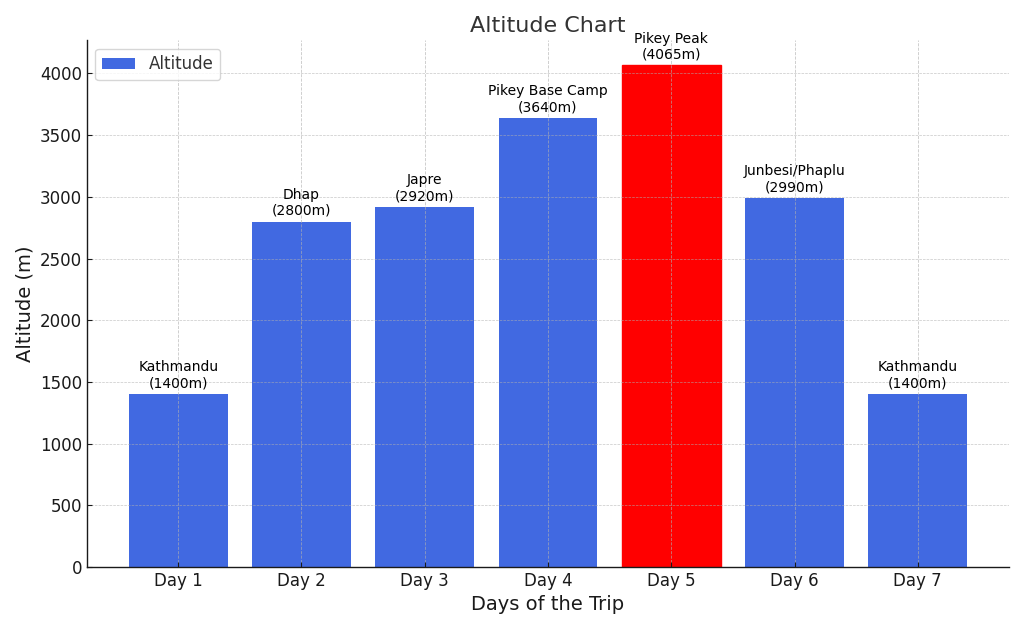 Best time for the Trek to Pikey Peak
The Trek to Pikey Peak in Nepal is most ideally undertaken during the spring and autumn seasons. Spring, celebrated as a season of blossoms, offers trekkers a visual treat with vibrant rhododendrons dotting the Himalayan landscape. The forests radiate with pink, red, and white blooms, beautifully contrasted against clear blue skies.
Autumn, on the other hand, is characterized by its lush greenery post-harvest and is also a culturally vibrant time due to major Nepalese festivals like Dashain and Tihar. Winter presents its own charm with snowy mountain vistas, though trekkers should be prepared for cold temperatures and check the availability of tea houses at higher altitudes.
Summer or monsoon season is typically less favored for trekking due to slippery trails, potential leeches, and risks of landslides. However, for those passionate about botany, the rich flora during this season can be alluring.