Are you ready to transcend the ordinary? Dive deep into the heart of Lomanthang with our Upper Mustang Jeep Tour. Book now!
Dive into the heart of the Himalayas with our Upper Mustang Jeep Tour. This exclusive journey lets you immerse yourself in Nepal's rich culture, showcasing stunning landscapes and age-old kingdoms unique to the region.
Explore the hidden gems of the Upper Mustang, known as the 'Forbidden Kingdom of Lo', with our specialized Upper Mustang Jeep Tour. This untouched area, rarely visited, feels like stepping into a time capsule. Here, contrasting with the verdant terrains of other Nepali regions, you'll experience a blend of Tibetan traditions set against stark, rocky backdrops.
We prioritize environmental care in all our tours. Our eco-friendly jeeps are not just a mode of transport; they're our commitment to preserving the scenic beauty we explore. We ensure minimal impact, letting you enjoy the Upper Mustang Jeep Tour with a clear conscience.
Choosing the Upper Mustang Jeep Tour means more than just a ride; it's a passage to a bygone era, a region untouched by modernity. Experience the true essence of Nepal's heartland, all from the comfort of our top-tier jeeps.
Why Upper Mustang Jeep Tour?
Rapid Exploration: Unlike trekking, a jeep tour lets you cover vast distances in shorter times, ensuring you see more in less time.
All-Weather Friend: Rain or shine, our jeeps are equipped to handle the unpredictable mountain weather, ensuring your journey is uninterrupted.
Local Insights: Our drivers aren't just experts on the road, but also a treasure trove of local knowledge, stories, and insights, enriching your overall experience.
Upper Mustang Jeep Safai Tour Route
Kickstart from Pokhara: As the starting point for the Upper Mustang Jeep Tour, Pokhara mesmerizes visitors with its serene lakes and majestic snow-capped peaks. This city serves as a calm prelude to the wild terrains of the Upper Mustang.
Jomsom – The Apple Orchard: A pivotal stop on the Jeep Tour route, Jomsom is renowned for its lush apple orchards. The town offers captivating contrasts with dry brown hills juxtaposed against verdant orchards.
Kagbeni: This ancient town holds a significant position in the Upper Mustang Tour. With profound spiritual roots, Kagbeni opens a window to Mustang's rich history. Wander through its narrow alleyways, past chortens and spinning prayer wheels, feeling like you've stepped into a living museum.
Chele to Syanbochen: As the Tour progresses, travelers traverse beautiful towns such as Samar, which boasts poplar trees and meticulously terraced fields. This leg of the journey culminates at the intriguing Ramchung Cave.
Ghami to Charang: An essential part of the Mustang Jeep Safari Tour, this stretch allows adventurers to drive alongside the world's longest Mani wall. Arrive in Charang, a town that encapsulates traditional vibes with fields of willow trees and houses separated by ancient stone walls.
Lo Manthang: The crowning jewel of the Upper Mustang Jeep Tour, Lo Manthang stands tall with its magnificent walled structure. Bask in its royal ambiance, marked by pristine whitewashed walls, striking red Gompas, and an age-old King's palace.
Upper Mustang Jeep Tour Advantages
Accessibility: Some places in Mustang are difficult to access on foot due to rough terrains. Jeeps make these spots easily reachable.
Flexibility: Unlike a strict trekking schedule, our jeep tours offer more flexibility in terms of halts and exploration.
Comfort with Views: Enjoy panoramic views of the barren landscapes, deep gorges, and snowy peaks, all from the comfort of our well-equipped jeeps.
Local Interaction and Culture on Jeep tour of Upper Mustang
Tiji Festival: If timed right, travelers can witness the annual Tiji Festival, celebrated every May. This three-day ritual commemorates the triumph of good over evil and is characterized by vibrant dances and intricate rituals.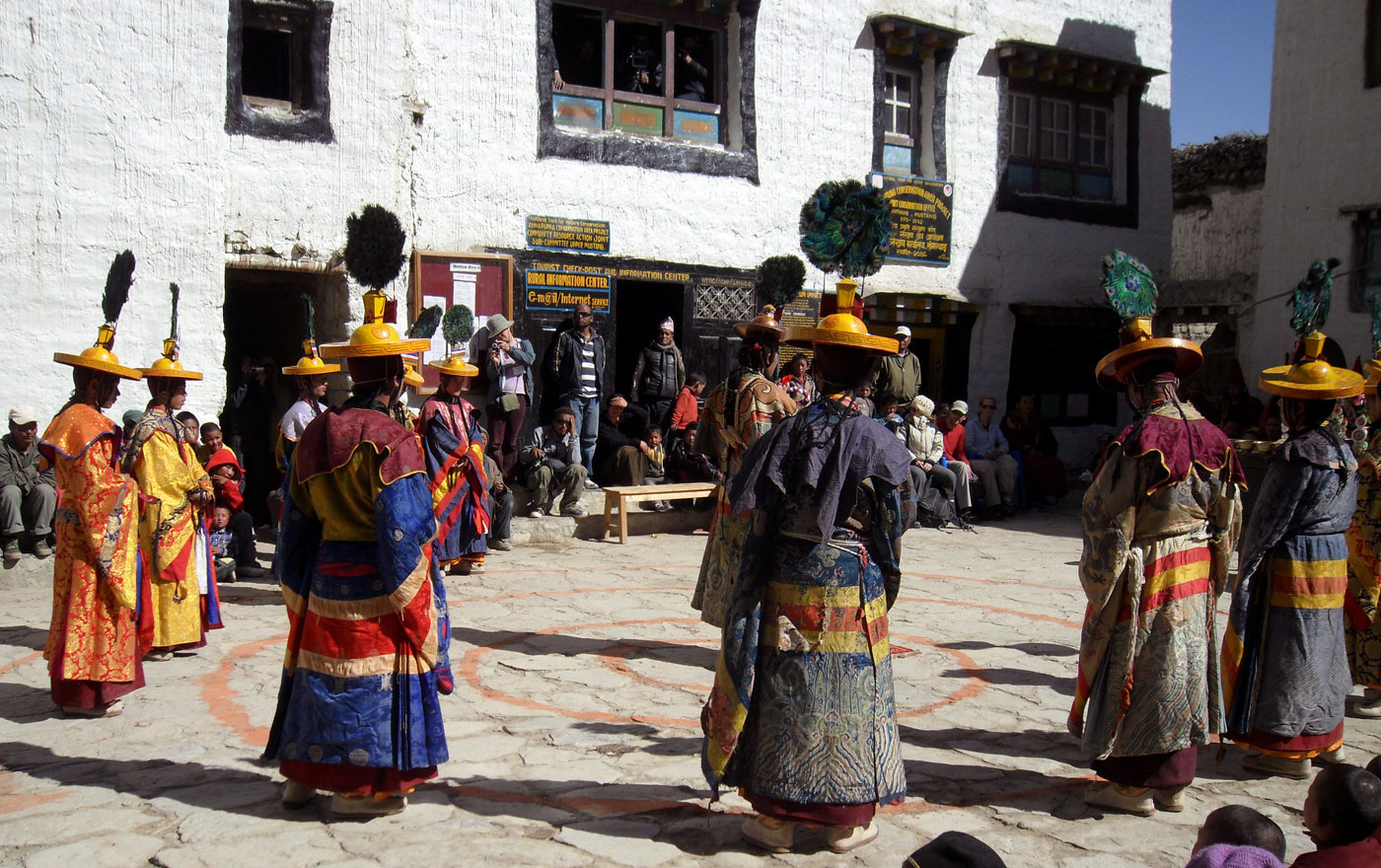 Taste of Mustang: Don't miss out on trying local delicacies like Thukpa (noodle soup), Tsampa (roasted barley flour), and a sip of the Mustang Coffee (locally brewed with salt and butter).
Eager to dive into the heart of Upper Mustang in a jeep? It's a unique experience waiting for you. Book your tour now and start the adventure!