Holi Festival Overview
Holi, the joyous festival in the Indian subcontinent, is a festival of colours. The vibrant colours, the giggles and smiles, temperate weather of early spring, the celebration of love and admiration, and much more make it a significant event in the Nepalese calendar. People celebrate Holi every year on the full moon day in March.
The splashing of colours and water balloons, with huge crowds gathering at places like Hanuman Dhoka, Patan Durbar Square, and Bhaktapur Durbar Square, is gaining attention among western travellers to Nepal, especially to celebrate this festival. This festival can be celebrated with family members who are seeking Family tour in Nepal.
As a Nepali Tour company, in recent years, we have understood the essence of promoting Nepali culture to the world; hence, we've started selling Holi Festival in Nepal packages to travellers at the best rates. The animated photographs of the Holi celebration in international journals, Instagrams, and often tour packages certainly tempt you to buy a ticket and fly to Nepal just to witness the liveliness of this euphoria.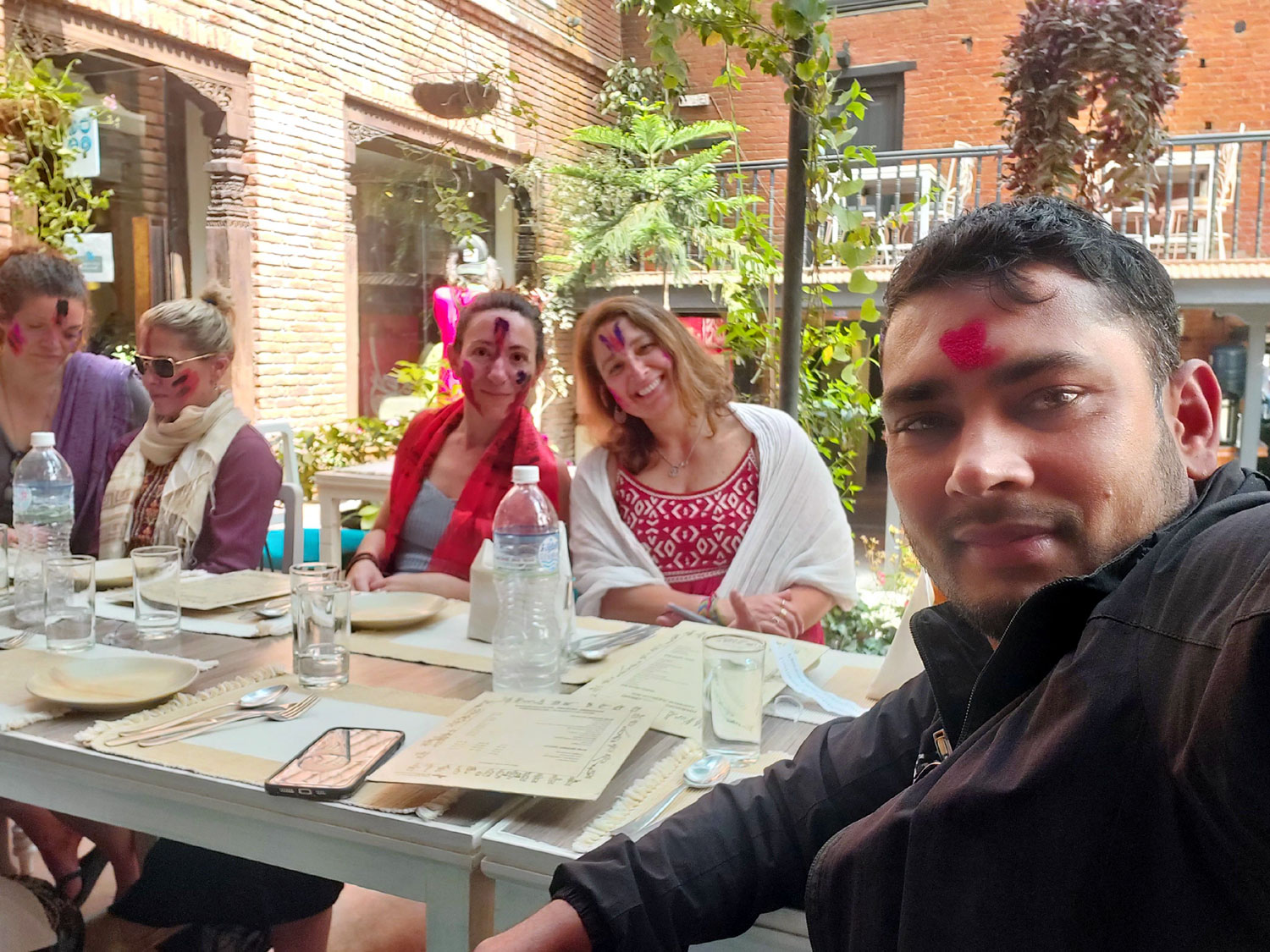 Unlike in India, people in Nepal celebrate the Holi festival for two days, one day in the Hilly region and another day in Terai. People also consider that Terai Holi is more entertaining than that in Kathmandu valley. Based on your preference, you can plan this festival anywhere to celebrate. But, how grand the celebration is, you'll experience the essence and richness of the carnival and its value.
Holi festival Highlights
Experiencing the junket of vibrant colours and water splashes at happening places inside Kathmandu.
An ideal time to cherish the excellent beginning of Spring.
A perfect cultural escapade to Nepal and witnessing the richness of culture and values.
Best time to plan high-altitude trekking and day tours before or after the Holi festival in Nepal.
Safe and secured Holi celebration with a guide.
When is Holi Festival Celebrated in Nepal?
Holi festival also symbolises victory over the Devil. March, the first month of spring, is when this festival falls. The beginning of spring also highlights the start of cosy days and the end of freezing winter. This spring 2024, Holi falls on 5th of March in Hilly region of Nepal and 6th of March in Terai Region
History of Holi festival
As far as one can go in history, it has been found that the records of the first Holi festival date to the 4th century. Historians believe that they discovered the recorded events of Holi in the form of poems in the 4th century.
People may share different opinions regarding the origin of the pious Hindu festival Holi. But legit Hindu mythology tops them all. The mythology that encircles King Hiranyakashyap, his son Prahlada, and his sister Holika gives the correct definition of Holi and is highly appreciated.
As stated in Hindu Holy Books, the King, Hiranyakashyap, was an evil man. He later became a King and made everyone worship and believe him as their almighty. He was so cruel that no one had a chance to disobey his orders. However, a brave heart showed reluctance to worship him as a god. The fearless heart was his son, Prahlada.
Instead of considering his father a god, he kept worshipping Hindu God Vishnu. Vishnu, one of three major Hindu Deities, is a god of preservation and incarnates himself in various godly forms to provide a lifeline for Humanity.
King Hiranyakashyap and his sister Holika plotted to kill Praladha by setting him on fire. Holika was an influential woman immune to fire. They planned to kill Praladha by making him sit with Holika on fire. However, when Praladha was on the lap of Holika on fire, Holika burned to ash, and Praladha returned safely. His devotion to lord Vishnu protected him from fire.
Since then, with the death of Evil, Holika and defeat of King Hiranyakashyap and the victory of truth, Praladha became a celebration. And the word Holi derived its name from Holika.
Significance of colours in Holi festival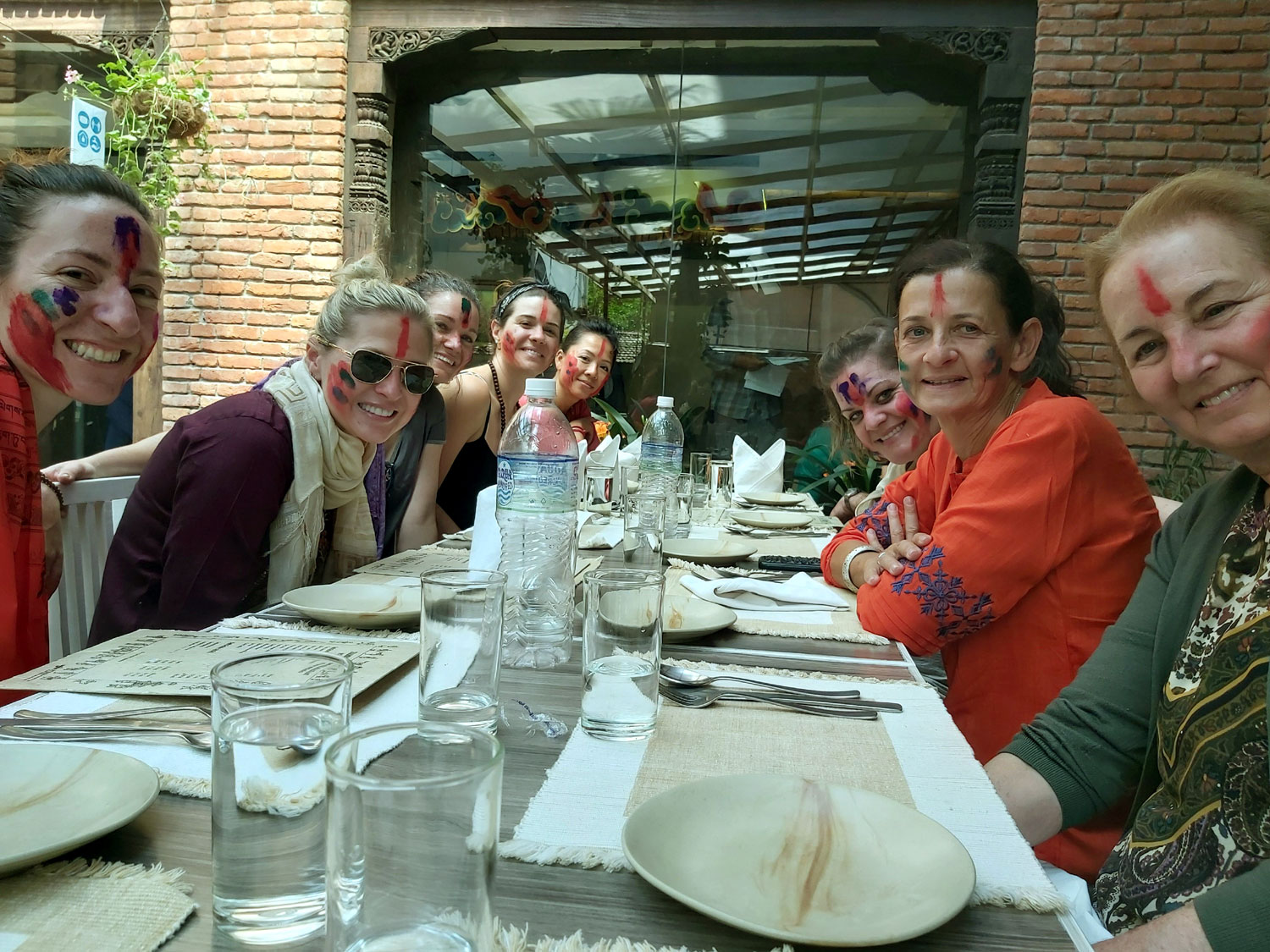 The four significant colours used in Holi are Red, Yellow, Green, and Blue. Each of these colours has independent significance.
Red, the dominant colour, symbolises love, admiration, and fertility. It also represents Spring and the beauty it adds to nature. Blue symbolises Lord Krishna, known for compassion and protection of Human beings from evils. Similarly, the Green colour represents freshness and a new beginning. Yellow, also a colour of turmeric with healing powers, is known for protection.
Family and friends put on these colours, attend get-togethers, and celebrate the Holi festival with a family meal. People also exchange sweets and other meals with friends and families. Everyone wishes for better health and life.
Places to visit during Holi festival in Nepal
You'll see people playing with colours and water balloons everywhere. There's a certainty that you'll also encounter some balloons thrown at you by kids from their rooftops. But, to make it a special celebration, there are certain places you can visit to celebrate the Holi festival in Nepal and make it a wonderful experience.
First, Durbar Squares in Kathmandu valley. The three Durbar Square, Kathmandu, Bhaktapur, and Patan are prominent places during Holi. Among these, Kathmandu Durbar Square/Basantapur Durbar Square and Patan Durbar Square gets filled with many youths celebrating the festival of colour. The large open area and easy accessibility of people make these places busy during the celebration.
Not only colours, but people also organise musical concerts and plays at these venues. Celebrities and singers also gather at these places to perform and celebrate the Holi festival.
Besides these places, you can also visit Bhrikuti Mandap, Maitighar Mandala, and Baneshor. You'll see thousands of youths enjoying the festival carefree.
Safety and security during Holi festival in Nepal
In recent years, the celebration of Holi has been more secure and safe for Nepali and foreign nationals. The Home Ministry regulates the festival at each place and puts the security forces in the most happening areas. Also, the tourist police ensure the safety of foreign tourists.
Locals even get excited seeing foreigners enjoying the local cultures and celebrating Holi. The cordial atmosphere prevails at each festival.
However, in some instances, the celebration often becomes violent. Hence, we recommend that you be in total control and not get involved in fights and other cultural issues.
Things you should be careful about in Holi
Don't carry valuable items like ornaments, expensive gadgets, and wallets. Protect them from colour powder and water splashes if you feel they're essential.
Sunglasses are highly recommended to protect your eyes from colours. If possible, put pieces of cotton in your ear to protect your inner ears from the powders. Everyone wears a white t-shirt during the day and dumps it at the end while taking a shower. Remain in your group if you intend to attend the most happening places like Basantapur Durbar Square. Protect your hair and skin from colour allergies. Some often use rotten eggs, oil, and grease during the day. Look for a guided trip or atleast find some friends with whom you can be in a group for the day.
What to do and not to do while celebrating Holy festival in Nepal
We recommend you take a tour guide if you plan to enjoy the Holi festival in Nepal in Spring 2023. With a guided trip, your celebration inside places in the city becomes further secured.
You must do certain things to enjoy this festival's wholesomeness. And also, there are things you shouldn't do during Holi that are considered illegal by the Nepal Government.
Things to do in Holi
Visit places like Bashantapur, Patan, and Bhaktapur to celebrate Holi with a huge crowd.
Enjoy the colours and waters with locals
Attend musical festivals and carnivals during the day
Allowed to take photos and video, but with consent
Respect the local culture and people
Things not to do in Holi
Engage in conflicts and fights
Physically harass and abuse people physically. It's one of the most happening issues in Holi as men try to grab sensible parts of females. You have to be conscious to avoid these situations
Consume illegal substances like marijuana and drinks people make in Holi
Don't drink and drive
Holi Festival: Now being popular outside Indian Subcontinent
Holi, an actual Hindu festival, is now becoming a worldwide celebration. People in America and the UK celebrate this festival with utmost joy.
People believe the Holi festival is not limited to a religious perspective as it symbolises other aspects of life and nature. Hence, the boundary of celebration is not defined by a religious belief. People in Europe often organise colour marathons where thousands of people gather to celebrate it.
Having said this, the essence of religious practice with this festival must be maintained. Yes, it has gained worldwide recognition, but exotification and commodification is worrying. Instead of a euphoria of celebration, it's becoming more commercial and losing its essence and purpose.
Why plan your trip to Nepal during the Holi festival?
Holi festival, regionally known as Phagu Purnima, is not only a celebration of the victory of truth over evil but also a welcoming euphoria to the Spring. Spring brings greenery and life to the landscapes, again to the landscape beaten by the winter.
Nepal is an ideal hub for trekking and tours. On top, the best days of Spring with stable weather and excellent visibility make it a perfect time for high-altitude trekking.
If you plan to come to Nepal in Spring for tours and treks, make sure you make it to celebrate the Holi festival before or after completing the trip. In this way, you can experience and embrace the richness of Hindu festivals being celebrated in the country.
On a single trip, you'll get a cultural escapade followed by a natural escapade to the remote yet inspiring terrains in the Himalayas.