The word "Maha Shivaratri" translates to "the great night of Shiva." According to Hindu mythology, on this day, Lord Shiva drank poison to save the world from destruction, and his act is celebrated as a victory over evil. It is believed that on this day, Lord Shiva is in his most powerful and benevolent form and blesses his devotees with good health, wealth, and prosperity.
Maha Shivaratri is a Hindu festival celebrated in Nepal and other parts of the world, dedicated to Lord Shiva, one of the principal deities in Hinduism. This festival usually falls in the month of February or March, on the 14th day of the dark fortnight of the Hindu month of Magha.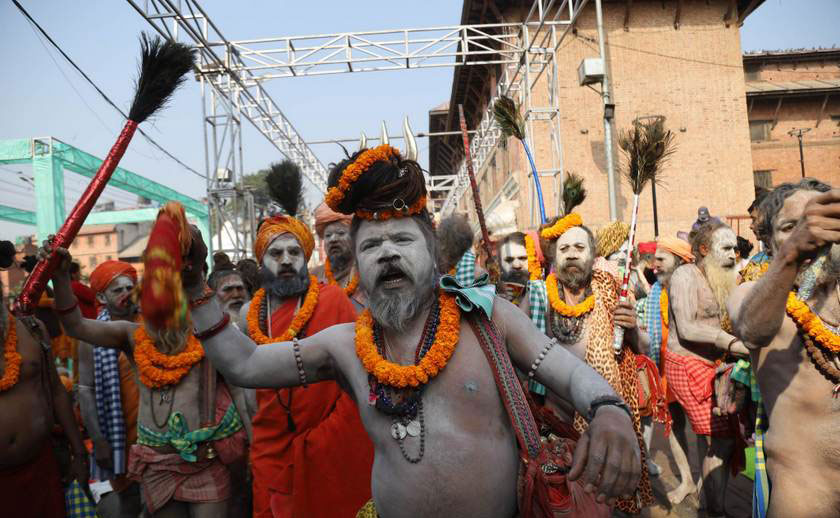 Celebrations of Maha Shivaratri vary across India and Nepal, but some common practices include:
Fasting: Many devotees fast on the day of Maha Shivaratri. Some people observe a complete fast, while others consume only fruits, milk, or other light food items.
Puja: Devotees visit Shiva temples and perform special prayers and rituals, such as abhishekam (pouring milk, honey, or water over the Shiva lingam), lighting oil lamps, and offering flowers and fruits.
Meditation: Many people meditate on this day to attain spiritual enlightenment and connect with Lord Shiva.
Jagran: Devotees stay awake throughout the night and sing hymns and bhajans in praise of Lord Shiva.
Processions: In some parts of India, colorful processions are taken out on the day of Maha Shivaratri. These processions involve people dressed in traditional attire, carrying idols of Lord Shiva and playing musical instruments.
In Nepal, the Pashupatinath Temple in Kathmandu is considered the holiest shrine of Lord Shiva, and thousands of devotees visit the temple on Maha Shivaratri to offer their prayers and seek blessings.
History and Significance
The festival of Maha Shivaratri has its roots in Hindu mythology. According to legend, on this day, Lord Shiva drank poison to save the universe from destruction. The poison turned his throat blue, and since then, he is also known as "Neelkanth," meaning the one with a blue throat. The festival is a celebration of Lord Shiva's victory over evil and his benevolence towards his devotees.
Celebrations
In Nepal, Maha Shivaratri is celebrated with great enthusiasm and devotion. The Pashupatinath Temple, located in Kathmandu, is considered the holiest shrine of Lord Shiva and attracts thousands of devotees from Nepal and India. On this day, devotees take a holy dip in the Bagmati River, which flows through the temple, before offering their prayers to Lord Shiva. Many also observe fasts and offer special prayers, including chanting the 'Om Namah Shivaya' mantra.
Throughout the day, various rituals are performed to honor Lord Shiva, including the pouring of milk and water over his idol, the lighting of oil lamps, and the offering of fruits, flowers, and sweets. In the evening, a grand procession known as the Shobha Yatra is taken out in which devotees dressed in traditional Nepali attire and holding lit oil lamps march through the streets, singing hymns and devotional songs.
Overall, Maha Shivaratri is a significant festival in Nepal, and it is a time for devotees to express their devotion and seek blessings from Lord Shiva.