Phakding in your Everest Base Camp Trek route can be the first overnight place after hiking four hours from Lukla. Also, it can be the last stop for lunch or short rest with cappuccino and bakery items before hiking to Lukla to mark the end of successful classic Everest trekking.
What to expect in Phakding as a Everest region trekker
A trekker on either Everest Base Camp Trek, Gokyo Lakes Trek, Everest Three High Passes Trek, or any trekking or expedition in the Everest region, passing via Phakding, can expect the following services and elements.
Decent to luxury meals based on your preference.
Hot showers, internet, and electricity at every tea house at a minimal cost.
Tea houses with BLD with comfortable accommodations.
Glimpses to the ethnic Sherpa community with their traditionally stone-built houses.
Mani stones, prayer flags, and monasteries reflect Sherpa's mores and values.
Everest region trekking guides and porters if you miss finding one at Lukla.
Altitude and location of Phakding
Those who hike on the Everest Base Camp Trekking trail feel that Phakding, at around 2,610 metres in Khumbu Pasang Rural Municipality, is one of the most beautiful Sherpa settlements. Just four hours away from Lukla, the inspiring landscape around Phakding leaves the trekkers in awe.
Sitting over 20 metres high on the right bank of the Dudh Koshi river and embraced by the towering hills, lush with pine forest, this place is serene. What makes it even calmer is the babbles of the Dudh Koshi river on a quiet night.
Reaching Phakding from Lukla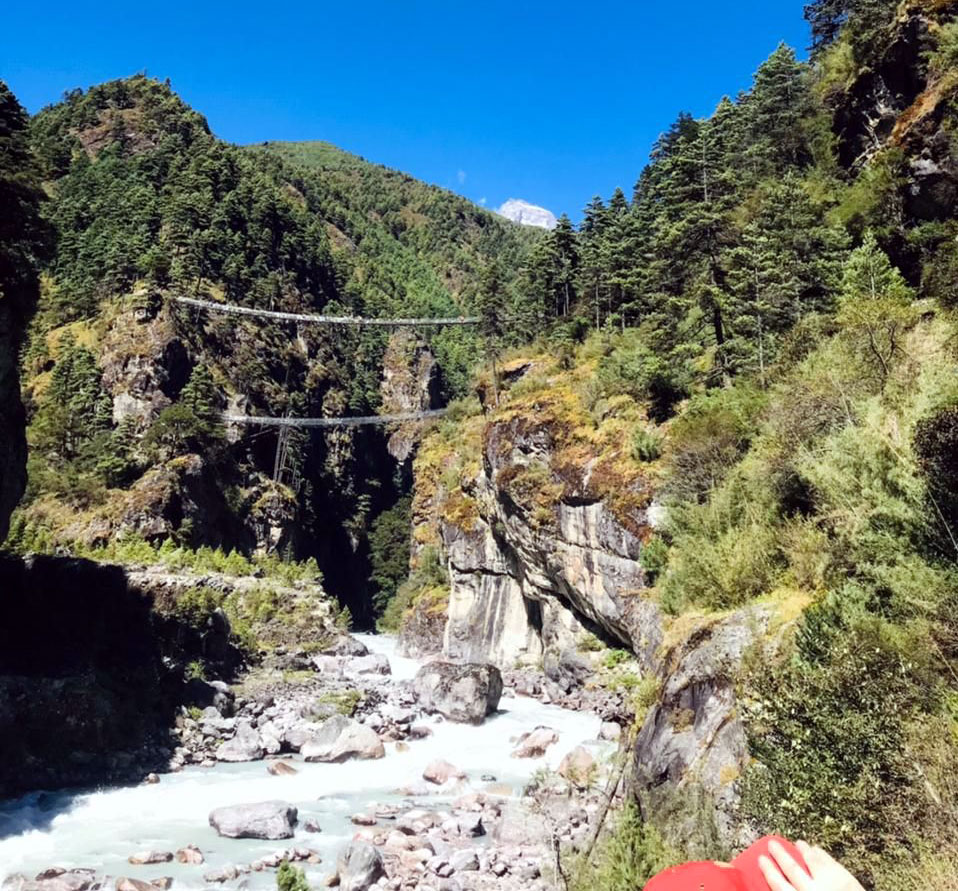 After you land at Lukla airport, the hike on the Everest Base Camp trek route begins. Everyone hiking on this route stops at Phakding overnight.
The trek distance from Lukla to Phakding is almost around 8 km, and it takes nearly four hours of relaxing hike time. The first sights of mountains and the rich greenery of Sagarmatha National Park unfold at every step.
You may encounter the ringing bells of mules and horses carrying loads. At such times, you may have to give way to mules. Capturing these moments can be a means of entertainment on the day hike from Lukla to Phakding.
Reaching Phakding from Namche Bazar
Namche Bazar to Phakding is a four-hike gradual descent hike if you're returning from Everest Base Camp Trek, Gokyo Lakes Trek, or any treks of the Everest region.
After leaving Namche, you'll first descend to Hillary Bridge, from where you'll reach Jorsale in half an hour. From Jorsale, you'll hike to Monjo, Tok Tok, and Phakding. You'll take your day meal at Phakding before leaving for Lukla.
Why stop at Phakding?
Phakding sits in a spot ideal for Everest region trekkers, whether descending or ascending.
For trekkers to Gokyo Lake Trek, EBC Trek, Everest Three High Passes Trek, and other different trekking in Khumbu, Phakding is a favourite spot for rest, either for a short break or for overnight accommodation.
The trekkers who hike up to Namche stop at Phakding for accommodation that includes overnight sleep, dinner, and breakfast for the next day. For optimum rest and adaptation to the altitude, staying at Phakding adapts the trekkers well.
For trekkers returning to Lukla, Phakding can be the last stop for luxury meals and rest at cafes. Bakery items, coffee, and other beverages at Phakding can make your return cosy.
Meals and accommodation in Phakding
The warm hospitality, best meals, and kind staff at the tea houses and lodges in Phakding make your overnight stay worth it. The luxurious tea houses and lodges like Buddha Lodge Phakding, Nirvana Home, Green Village Guest House, Sherpa Guide Lodge, and Yeti Mountain Home Phakding are some of the best in Phakding.
All these tea houses are known for the best meals and accommodations in Phakding, with attached bathrooms and hot showers.
Phakding in Khumbu is suitable land for growing a few crops and fresh vegetables. Hence, trekkers here can get the chance to consume homegrown vegetables with authentic Nepali meals. Besides Nepali cuisines, trekkers can get broad menu items for breakfast, lunch, and dinner.
How Phakding looks
If you're hiking up Namche from Lukla, Phakding comes after Ghat Village. You'll cross a suspension bridge over the Dudh Koshi River before reaching Phakding. The blue-roofed tea houses greet you from a distance.
If you descend to Lukla, you'll reach Phakding after leaving Tok Tok village.
The prayer flags on the houses and trees colour the locale. The tea houses with grass and flower vases in front, brightly painted wooden doors and windows, and beautiful seating for lunch make the tea houses alluring. You'll even smell freshly brewed coffee, pastries, and people enjoying the sun and chess games outside their lodges.
Sherp Shangri-La Lodge and a Switzerland Government built a hospital at Phakding can be heart stealers. The settings and created type of these figures are heart stealers in Phakding.
Weather and temperature at Phakding
Weather and temperature determine the flow of Everest Base Camp Trekkers in each season. Winter and Summer, especially June, July, August, December, January, and February, are not for Everest Trekking.
Phakding, at 2,610 metres, receives significant rainfall from June to late August. Also, Phakding in winter gets covered by snowfall, dropping the temperature to around 12 degrees celsius. Even if snowfall happens once or twice in winter months, Phakding remains cold.
However, the best time in the year, Spring and Autumn months, brings back the natural aesthete in Phakding, and so trekkers enjoy their quality time here. The rhododendron blossom, greenery, clear skies, and faint temperature make it an ideal stopping point for trekkers.
Autumn and Spring time in Phakding sees many trekkers; thus, tea houses remain busy throughout the peak Everest region trekking season.
The temperature in Phakding in September, October, and November fall to an average of 12 degrees in the daytime. The nighttime temperature falls to 3 degrees on average, but in November, the nighttime temperature drops to freezing.
Spring days become slightly warmer than Autumn in Phakding. The daytime temperature averages around 17 degrees, while the nighttime temperature averages around 5.
These temperature conditions are ideal for Everest Base Camp Trek and other treks on Everest. The stable weather in these months at Phakding and in Khumbu lets you sightsee with ultimate visibility.